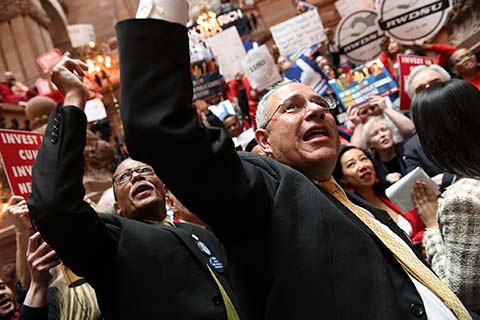 A victory three decades in the making
NYSUT and its allies in the decades-long fight for fair and equitable funding in education are celebrating a huge victory this week.
When Gov. Kathy Hochul announced that the state had reached an agreement to settle and discontinue the 2014 New Yorkers for Students' Educational Rights v. New York State case, she followed through on the 2021-22 budget commitment to fully fund the current Foundation Aid formula to school districts over three years, ending the State's prior opposition to this much-needed funding to our students.
"This closes a chapter that dates back to the first Campaign for Fiscal Equity lawsuit in 1993," said NYSUT President Andy Pallotta. "Going forward, the schools of New York will have the resources they need to provide the quality educational experience that all students deserve.
"Many dedicated unionists and activists worked for decades to get to this point," he said, "and the real winners are the young people of this state."
(Above: Sen. Robert Jackson, left, and President Pallotta rally supporters at a Fund Our Future event in the Capitol in 2020. Jackson was on the original CFE lawsuit in 1993.)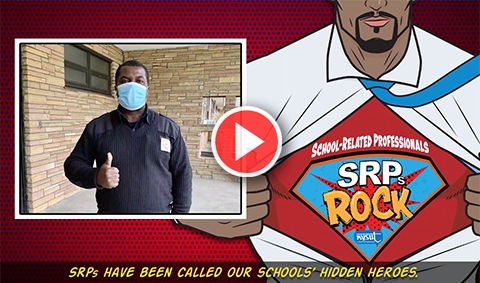 Celebrate super SRPs on their special day!
Check out NYSUT's special video to highlight SRP Recognition Day, Nov. 16. "This day is a well-deserved honor for the hard-working women and men who help educate, feed and transport students, monitor their health, administer school offices, and maintain school facilities — providing a safe and nurturing environment for student-centered learning," said NYSUT Second VP Ron Gross. "We honor the super heroes of our schools." [NOTE: Add tracking link to video image]
Visit NYSUT's SRP Recognition Day web page for promotional tips, innovative celebration ideas and other helpful resources for download. Local presidents may order "SRPs Rock" pins for local members and sets of super hero posters (leader login required) free of charge. Post content on social media using #SRPRecognitionDay.

Regents advocate increased funding to education
The Regents this week began discussions on their state aid request, calling for continued phase-in of increased foundation aid and expansion of BOCES and CTE funding. SED announced a number of foundation grants, including a $500,000 Carnegie grant to pilot alternative assessments.
More news
Check us out on Facebook and Twitter and Instagram.